What is the AirTight Insulation?
AirTight Insulation Systems
features an
organic-based
polyurethane spray-in-place, spray foam insulation. This innovative product has excellent thermal and sound insulating properties that can help to create a healthy, comfortable, energy efficient, and durable residential or commercial structure.
When
AirTight Insulation Systems
foam spray, is sprayed into a floor, wall, ceiling, or roof deck, it expands and fills all cracks, crevices, and voids. This creates an effective air tight seal which guards against air infiltration, the number one source of energy loss in a structure.
Because of its high R values and air tightness characteristics,
AirTight Insulation Systems
spray foam insulation, also allows for the use of smaller, less expensive heating and cooling equipment. The smaller HVAC unit uses less energy while appropriately de-humidifying this now controlled environment. The result is a smaller monthly utility bill, a quieter and more comfortable structure, improved indoor air quality, and a stronger defense against mold and mildew.
AirTight Insulation Systems
, spray foam insulation, unlike traditional
insulation
(fibrous cellulose & fiber glass), is not fiber based and contains no harmful particulates that can cause irritation or allergic reactions. It can eliminate the need for building wrap in some climates and minimizes the labor intensive and imperfect work associated with air tightness detailing that is required when insulating with conventional insulation.
AirTight Insulation Systems
offers two unique
foam spray
insulation products
suitable for both home and commercial structures. The two products include, an open cell, semi-rigid spray foam, and a closed cell, rigid spray foam.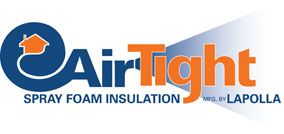 Closed Cell
AirTight Closed Cell Foam, Product Sheet
AirTight Closed Cell Foam, ICC Report
Open Cell
AirTight Open Cell Foam, Product Sheet
AirTight Open Cell Foam, ICC Report